A new quality of bridge builder. Build a bridge and test your ability consctruction. Helping your workers to collect items located on the other side of the valley. Being the number one leader board.
How to play?
Build a bridge using your mouse and available budget. When done click "Test your bridge".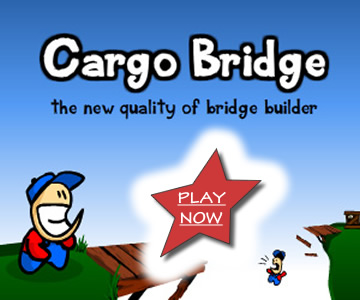 Your workers will use it to get items located on the other side of the valley, and bring them back to the store. Your goal is to collect all items in level.
For each level you have a limited budget. All the money that you will not use, become your score, so cheaper bridge = higher score.
Money collected in all levels of the game will be the total value you and will be sent to the leader board. You'll use their money in challenge mode too.
Building tips:
There are two types of bridges elemets: "walk" - workers can step on them, "connectors" - used only to connect elemets bridge, workers do not collide with them.
"Connector" elements are cheaper and lighter so use them as much as you can
Each item has a different weight and some of them will need stronger bridge then others.
At the beginning of the game only wood elements of bridge are available. At advanced levels, aditional materials will be accessible as well, so use it wisely.
Your job is to design a simple robust construction of the bridge to move the cargo box to the basecamp. Follow the level by level to hone talents merancangmu sharpness.
LINK DOWNLOAD
Password : raja